Hey y'all!
I know I've been incredibly absent over the past couple weeks and I'm so sorry! I've had family in town, I've been at the beach and I've been cleaning house! I finally had a small break from the demand of the Ready to Pop favor boxes and took that opportunity to clean house! Cleaning, organizing and getting rid of a lot of stuff! So I'm sorry I've neglected the blog.
On a more positive note, were you surprised to see my previous post? In case you missed it, Natalie (Johnny in a Dress) and I  have teamed up to host a link party every Thursday!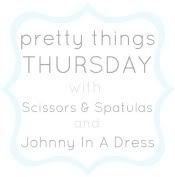 Last week's party is closed, but be sure to link up your latest creative endeavors this Thursday!
Moving on to why I've been absent…
We've been at the beach! Okay, we were at the beach a couple weeks ago. Two beach trips back-to-back. I've been trying to get this post up for that long!
My grandma came down from Wisconsin for three weeks and we took her to our new favorite beach spot, Fripp Island, SC. And our other favorite, Charleston.
That's my grandma (GG to the boys)!
We all had a blast!
Amazing sunset cruise with the dolphins. . .
love this one of sweet Parker Reese. . .
3 generations
Good times! We had so much fun!
But we're not finished yet! Headed to Folly Beach on Saturday. I love summer!
You Might Also Like: