Hi friends! It's Friday again already! And on Fridays, I feature YOU! Today I thought I'd share a few ideas for Thanksgiving. Can you believe that Thanksgiving is next week? Jeez! Are you ready? If you are still searching for some last minute finishing touches, here are a few ideas for you.
Alright, I'll start with the yummies! You know they are always my favorite!
I am a fan of anything with pumpkin. I love the flavors of pumpkin and spice!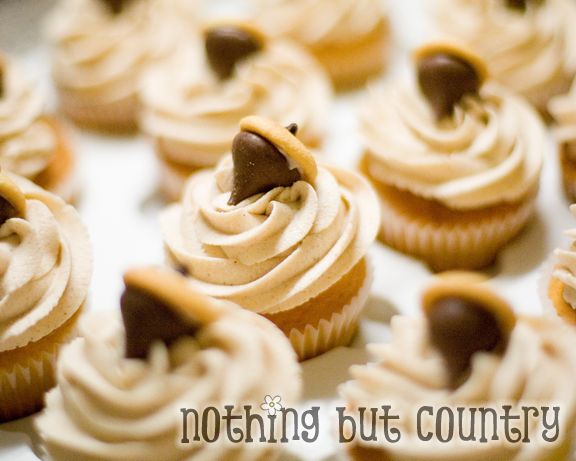 So of course, these
Pumpkin Pie Spice Buttercream Cupcakes
look and sound amazing to me! Aren't the little acorns cute too?! You can find the recipe over at Nothing But Country.
And how 'bout these darling Two Bite Turkeys from the Seven Year Cottage? What a cute dessert for the kiddos!
If you want to create a few simple Thanksgiving decorations for your home to remind everyone of the occasion, here are some cute ideas.
I love this
Thankful Banner
made by The Happy Scraps. It's cute, simple and would add just the right touch to your dining room. Plus, it uses my favorite
Stampin' Up ribbon
!
These
Thanksgiving Place Cards
are darling! What an adorable way to decorate your table! Stop by Just Another Day in Paradise to see the tutorial.
I think this
Thanksgiving subway art
speaks for itself. You can download it for free at Summit Street Joy, print it and frame it for the Thanksgiving holiday.
And, to decorate the kids table, these
Cornucopia Place Cards
are cute and yummy! The trouble is, they may not want to eat anything else! Stop by Caramel Potatoes to see more.
Did you get a few ideas? I hope so!
A quick reminder. . .
How does Santa get into your house? If you don't have a fireplace, explaining this to your kiddos might be kinda tricky! What if there was a special key designed just for Santa to get in on Christmas Eve? ON the back there is a poem that reads:
This key is very special, you see,
It will not work for you or me.
Hang is just outside your door,
And go to sleep, worry no more.
Close your eyes and close them tight!
'Cause Santa Claus comes tonight!
I'm giving away one of these keys over at Tattered & Inked! Stop by to enter!
I hope you have a great weekend!
You Might Also Like: